September has been a very special month for Camille's Appeal, as we celebrated the first anniversary of the launch of Brainbow- the UK's first rehabilitation service for children with brain tumours. To mark this milestone we enjoyed a party with the Brainbow team, our charity partners Anna's Hope and Tom's Trust and staff from Addenbrooke's Hospital who have been associated with Brainbow during its first year.

Support while you shop this Christmas

Wouldn't it be fantastic if you could support Camille's Appeal simply by doing your Christmas shopping?  Well you can!  By registering with Easy Fundraising you can earn a charity commission on any purchases made online at over 2700 retailers.  It doesn't even cost you any more.  Over 30 supporters have already registered. 
Jan282013
It's been some time since I last blogged about Camille and her progress post treatment; it seemed that back in May, updates were becoming more and more irregular and it was a good time to take a break. However, eight months is a long time and lots of significant events can take place, especially when trying to overcome the effects of a brain tumour.
Fill in our simple form to start fundraising for Camille's Appeal
sign up for our e-newsletter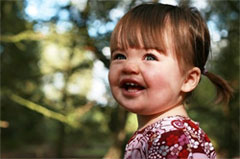 Camille's Appeal is the children's brain tumour charity specifically focused on the support and welfare of children under the age of five.
Under current treatments, children are likely to undergo three treatments in an attempt to cure them of this horrific illness, all of which have a devastating effect on the bodies of these small children. Chemotherapy, surgery and radiotherapy will in many cases leave the child with disabilities making an independent life very difficult.
Camille's Appeal wants to help these wonderful children and their families get as close to a normal life as possible. The focus of the charity is to work closely with the NHS to ensure that each and every child is given the maximum amount of care to lower the risk of disability and to create and improve rehabilitation care across the United Kingdom.
Please help Camille's Appeal through donations, fundraising and awareness create a better life for children with brain tumours.